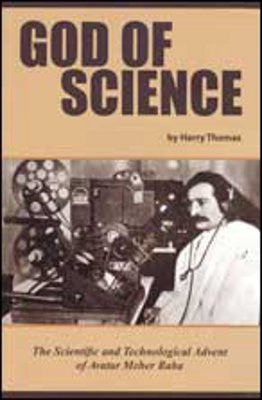 Beloved Archives,Inc
GOD OF SCIENCE By Harry Thomas (PB)
---
"Since time immemorial, the Avatar has come into our midst. This divine act repeated itself with the appearance of Meher Baba. However, unlike previous Advents, the Ancient One had the products of the modern world at his disposal for his auspicious and redemptive work.
Meher Baba was able to employ: cars, trains, buses, ships and planes for transportation purposes; telegrams to communicate instantly and loudspeakers to transmit his message to large crowds. Photography and film preserved his image and was enlisted as a medium for his work. Gramophones were used to play music and radio conveyed events and programs of the day to his listening ear. Besides these, many other sciences were utilized throughout the course of his ministry.
God of Science
is divided into various sections. There is Meher Baba's words on science as well as numerous incidents involving a technological component as a vital part of the narrative and finally, several chapters detailing how Meher Baba's life historically synchronized with numerous scientific and technological endeavors."
From the back cover
---
Share this Product