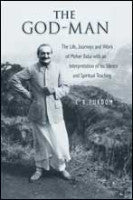 Sheriar Books
The GOD MAN By C.B.Purdom
---
After many years,
The God-Man
by C.B. Purdom is back in print! Written during Meher Baba's lifetime, it includes not only Purdom's personal recollections and messages he took down as they were being conveyed by Meher Baba, but also diaries and memories of other living witnesses. The
God-Man
is a unique, one-volume biography of Baba, written in Baba's time. It is not only a wonderful and beautifully written book for those who know of Meher Baba, but is also an excellent introductory book for people new to Him.
Part One
of the book gives a clear account of all the periods of Baba's life and includes many messages and discourses from Baba.
Part Two
contains more subjective essays by Purdom about Baba. An epilogue by Delia DeLeon about Baba dropping His physical form in 1969 is also part of the book.
As Purdom writes in the opening chapter: "My object in these pages is to give an account of this man as I know him and as his companions and friends have spoken to me about him, to record his messages and declarations, and to explain what I think to be his significance."
Published in 2010
---
Share this Product